When Little Mix were crowned winners of the X-Factor, the first Facebook message member Jesy Nelson saw was from a stranger. It read: "You are the ugliest thing I have ever seen in my life. You do not deserve to be in this girl band, you deserve to die." This is quote from a magazine interview that Lil Mix Jesy Nelson did in relation to her documentary of online trolling and how it affected her physically and emotionally. Watching the documentary, it was really inspiring and she is a true role model to young girls, but also even though she is a couple of years younger than me, I found her inspiring, as I have had similar battles in the past; not similar in the way of online abuse, but in a way I have been subject to that before but it was by people I knew, making a fake profile up of my boyfriend sending me stalkers. Of course dealt with it at the time by being really upset, but then I thought, crying isn't going to make it go away, so I blocked and restricted these people off my social media and reported it to facebook.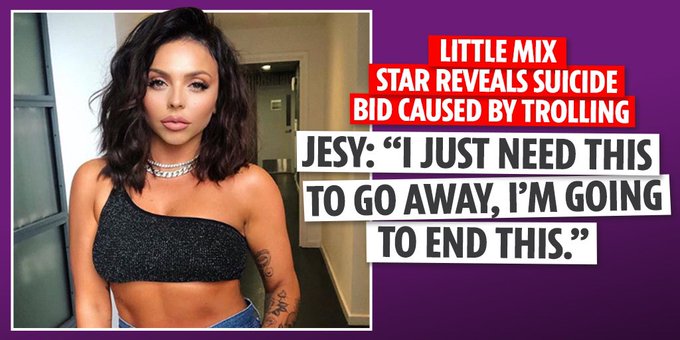 Retro Social Media
Three years ago after suffering from mental health difficulties, I was living in a shared house, one of the guys that I lived with had a crush on me and I turned him down repeatedly, I had to get very blunt with him in the end, however, he posted something nasty things about me on our house WhatsApp group, which turned into a witch hunt; I was barely eating, I had just been made redundant and my partner at the time was also going through some stuff, so that on top of all that really was heartbreaking, I don't know if it's worse, but I was living with this one person and everyone that I lived with knew about these rumours due to being part of this WhatsApp group. I reported it to my landlord but also took it to the police, as I had been suffering mentally due to things being said about me, the police acted on it straight away which I thanked them for and they did say they'd take action if this was to happen again, he says using technology as abuse against someone is a actually a crime and if it were to persist, they'd take his phone off him for investigation. So I have like Jesy Nelson but not to the same extent as suffered from online abuse.
Rewinding back to my teenage years, we never really had anything like Instagram and I don't think twitter and camera phones weren't around. I didn't have my first phone until I was 15 years of age, and it was a very old school Nokia and I remember how excited I was, that I could finally start texting my friends, but even then I remember it was trouble causing technology as me and my friends would text each other and then squabble about something one of us had said to another or one of being jealous of the other having a better phone or the most chique phone case. Back then, by own admittance I was a chav school girl, I thought I was the biggest best thing ever walking around with a pink playboy bunny phone case, we were all trying to outdo each other. My point being mobile phones weren't as advanced back then, so I have empathy with teenagers and young people today that as a teenager, life can be complicated enough, but today there is, due to social media, more pressure on younger people and the power social media can have on them.
As a youngster we shared a PC in our house, so fighting amongst four of us to go onto the computer would be a bit of a challenge, I was always on MSN this chat room we had back in the day, where I would wait for my turn on the PC and chat to my mates, even though we lived near each other and spent all day with each other at school; I look back now, and I think, why did I waste so much time on the PC on this chat room? My friends and I would be ok at school during the day then we'd argue or team up against each other having multiple chats, (I know teenagers back then, I cringe today thinking about it.) Then when I started college, there was the launch of Myspace and facebook, they called also be self esteem knocking and trouble causing as there was a thing called 'Top Friends' and it was all about how amazing your profile background was. Still today there's this thing about egos, how many likes you can get; how many friends can you get; it's like a popularity contest. A lot of teenagers nowadays seem to record their lives on youtube and I remember this documentary I watched of young girl crying on her 16th birthday party, because she didn't have 1000 influencers on Instagram. I sympathise really as that is the pressure teens today feel, and on their 16th is meant to be one of their best milestones. Being a teenager can be tough at the best of times, but thanks to the power of social media, it has turned things into a popularity contest. I remember being on a bus years ago coming back from college and there was one lad having a rage to his friend on the phone, because someone DELETED him off myspace; again this is one example how, even back in the early 2000's these sites could be extremely chaos causing.
How I treat facebook and instagram
I would be lying if I said I didn't let social media annoy me sometimes, I found it terribly frustrating when people who I knew personally, could be quite mean in real life was spouting and preaching, '#BeKind' this to me was very hypocritical, as I had seen how spiteful these people were in real life to other people, but again it's jumping on the band wagon with a trend but also by posting that stuff on social media; they think it makes them a good person and adds points to their egos. This was the after the announcement of the death of Caroline Flack who took her own life, but there have been celebrities that have been tortured on social media prior to Caroline Flack, however sadly her death was a consequence after suffering torture from trolls. Have these people ever stopped to think that their nasty remarks are hurtful to others? What it can do someone? Famous and non famous people are all the same, and do have feelings. What I found frustrating was a week after people were preaching 'BeKind' I saw Instagram posts and facebook quotes off people slating Cheryl Cole.
Another example which I find is that successful pop singer Britney Spears, has herself suffered from online Instagram abuse, but hit out at these bullies, which fair to play her, she found her voice to hit back. It did hurt her feelings, and have people stopped and thought Britney Spears has feelings, like us she is human and has been through an emotional rollercoaster?! So why follow her on Instagram if they don't like her, seems very backwards to me and these people are wasting a lot of time and energy zoning in on someone they haven't met. This is an example of what I call 'Keyboard warriors' they look brave behind a keyboard, but they are damaging someone else emotionally to make themselves feel good.
Britney Spears on Instagram: "I've read a lot of things online of people criticizing my posts …. saying I post the same 15 pictures with the same red background and…"
britneyspearsVerified•Following
britneyspearsVerifiedI've read a lot of things online of people criticizing my posts …. saying I post the same 15 pictures with the same red background and wearing the same white bathing suit. For me I get really excited about my posts …. and I like to share them with you all !!!! I've never owned a white bathing suit before and I simply liked the red background !!!! Reading all of the mean comments really hurts my feelings …. and I wanted to share because you really shouldn't be saying all of these mean things to someone you don't even know .… this goes for bullying anyone really !!!!!! Hard times like we are currently living through should really teach us to be nice to one another …. !!!!!! PS I saw some people were offended by me posting about horses yesterday …. I am truly sorry if I offended anyone. I think it's important to see things that bring happiness during hard times and making light of a situation can sometimes help people !!!! I love you all …. stay safe …. and be nice !!!!!This was what Britney Spears shared on her instagram post after the hype of '#BeKind.'
These people that give online abuse, you need to stop and think, think about the damage your doing to someone! Cyberbullying is also taking place in schools, the death of Lancaster native, 16-year-old Sian Waterhouse, as an example a stunningly beautiful girl, who seemed happy on the surface but due to cyber bullying took her own life.
How I handle social media recently, is I don't take part in debates and I'll share things like 'Theatre' and things I'm passionate about, recently I posted a petition up for saving the theatres and arts sectors, however I got an abusive comment saying 'You don't care about the NHS' just straight to having assumptions about my character; just because I post something up about theatre doesn't mean I do not care about anything else, 6 months ago I would've really had a sleepless night and overactive mind about it, but my reaction was, I don't talk to you, I haven't seen you in years, and I don't want your toxic energy on my social media, so you're comment and your opinion can be disposed of by blocking and deleting the comment and that person I never felt better, I felt cleansed with a sense of satisfaction.
I would also be lying if I said admittedly a few years ago I would be bothered and have the famous 'Insta anxiety' where I'd post a picture up and someone else who I followed would put a picture up of a selfie of themselves, and instantly think my selfie on has 10 likes but hers has over 1000 she must be prettier than me, I am now not bothered or phased as I have Instagram celebrities I admire and people I have time for on Instagram nowadays, furthermore one friend of mine who is very into his technology says "you know on Instagram and Facebook, you can buy likes as it makes you look more popular" I remember those words being a sigh of relief when he said that, and I thought well that's up to the individual and can be good if you want to attract popularity as an influencer or a business but for my own personal account, I'd rather people were genuine and I feel like in a sense it's like paying people to be your friends and it's not real life.
Social media stories
Social Media can also be dangerous especially during times like these, in a pandemic. About a month ago I read a couple of statuses saying 'The Virus Has Gone.' The media has a lot of power over social media and individuals, which can cause other dangers, these 'facebook experts' as my older sister Emma calls them, don't realise the dangers they can cause with people's anxiety and mental health, but also fear mongering and giving them false hope. On the news when COVID 19 was first mentioned,it was reported that children were posting things up about drinking bleach, to which a child followed and imitated, this example, magnifies what influence and negatives, not to mention dangers can be caused by social media.
Written Online Reviews
Social media and online abuse doesn't just stop there, it also can have a negative keyboard warriors on business facebook pages, google reviews and trip advisor. In the service industry and being a manager I have had to grow a thick skin regarding this over the years.
My previous job as a manager of a bohemian style coffee shop, I had to reply to emails and reviews regarding complaints, 'kill them with kindness' as my boss at the pub says. I remember a gentleman put on trip advisor, that he experienced bad service at my coffee shop, and that someone rolled their eyes when he asked about different types of coffee; my operations manager didn't ask questions and sent me a snotty email telling me my training of staff isn't satisfactory and my staff and I need retraining.

I was of course not happy by this, but didn't apologise! I knew the team I had were patient, friendly and had excellent customer service skills, not being biased but this was the case and my poor staff had to then receive customer service training, which was a waste of time and money for the company; but my point being this is how someone that posted this review a couple of days ago at that time, affects people's morale and confidence and put me in a bad light as being a poor manager. This review however was posted but a year too late to the experience he was referring to, and back to when the previous manager before me was working there. Maybe he wrote this review in a bid for a freebie, or maybe someone he took a dislike to he thought instead of saying this problem at the time, he'd take to the internet to fight his battles. With working in that environment, myself as an individual if I receive good service, I'll thank them there and tip, but if I have a complaint, I'll raise the issue in person at the time and give that worker or manager a chance to explain or rectify the situation there and then, as I would leave on a more positive note and have closure.
One of the places I worked years ago, one girl I managed was very lazy and not the most customer enthused person going, which often showed, got a reward due to having been mentioned by name on trip advisor, I remember thinking the best in her, that she'd turned a corner, but three members of staff said she got that review, off her aunt and uncle and told them to put it up, so the dangers of trip adviser and business social media review platforms, can detriment people's livelihoods, falsify information but can also detriment a business, not to mention undeserved praise. Service apps like open table and trip advisor can be great for incentives in a business, the nice reviews, and pointers, but then it can be opened to abuse with fake reviews and another way to play keyboard warriors against individual(s), which is a form of cyber bullying.
Other Dangers
Other dangers of social media is with younger people. A subject that was covered in the early 2000's on Coronation Street, when a teenage Sarah Platt played by Tina O'Brien, met who she thought was a 19 year old boy online, and she went to where she thought was her internet date's house, finding he was a 40-year-old paedophile, this is a danger that has happened through these chatrooms and dating apps, one show my partner likes to watch is MTV's Catfish, which shows people thinking they are talking to someone with the same name, but totally different age or appearance; or same person acting under an alias. This can be harmful in so many ways. Anyone who wants more information on this I highly recommend the NSPCC Website they are a really good service and have information about protections and access to help with these situations; there is also useful helplines and websites for adults.
For anyone suffering from online or cyber bullying remember, you're not alone, and there are people that can help; police, authority figures like teachers, parents, friends, managers, however old you are. I wanted to signify and write my honest thoughts and shared experiences as the internet can ruin people's confidence and self esteem, and I wanted to write two separate blogs about the negatives and positives of social media and the impact it can have. For anyone who has had any bad or good experiences regarding social media, please share your thoughts. I know I have written about just the negatives but there are positives to social media, which I will cover in a follow up blog entry talking about the pros.
Thanks for reading,
Ellie.