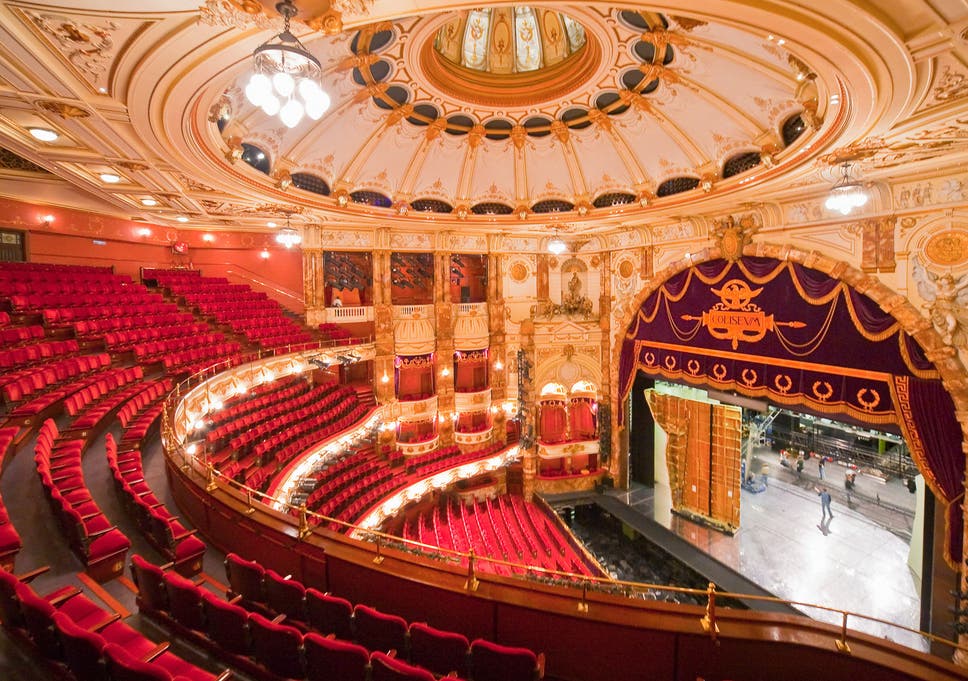 The Theatre! The Theatre! What Has Happened To The Theatre?!
As I sit here writing this I have a look from out my window, deliberating, as I look around my two bedroom apartment situated on a picturesque Warwickshire high street overlooking the local train station and hills in the distance, with the sound of sheep settling down before sunset; I sit and think how lucky am I right now?
How lucky am I to still be employed and still have a salary coming in, because in comparison to a few of my closest nearest and dearest friends, that I have known most of my life, they face the prospect of uncertainty due to revenue and shows cancelled and of course these are the passionate hard working people, whether they are dancers; choreographers; actors; writers; musicians; ticket sales; front of house managers; theatre bar supervisors, you name it, I have at least four good aquaintances that work in one of these roles in the arts sector.
However as I'm writing this, I decide now is the time to have the Hamilton soundtrack playing in the background. I am really tempted to go to the theatre right now, however due to the government guidelines theatres are currently on lockdown. Late March the government announced lockdown and closure of hospitality venues and arts venues; I found out out off the news that pantomime brings in most of the pennies into theatre venues; this is due to being many of a family tradition. The long winter runs of show, but also the amount of customers it brings into the theatre; that's not to mention the time ticket sales and bar sales increase; furthermore with prospects of pantomimes possibly being cancelled, that is a lot of work lost for actors, and a lot of sales lost for the show companies and theatres itself.
It has seemed like from my point of view, some people do not see theatre as a necessity and think the closures of theatres and it's fight to support the arts is 'trivial.' Well let me tell you, did you people know that the arts contributes 90% to the economy? Yes you read that clear and I can tell you it's not a figure I made up as I did read this on The Stage online. Furthermore to add to the debate, if theatre isn't a necessity, then we could argue the fact that pubs aren't a necessity then couldn't we? Pubs, also like theatre, is classed as luxury, yet there is uproar of keeping pubs open and people saying this about theatre, are the ones flitting to the pubs. This isn't just a biased opinion coming from a massive performing arts geek that enjoys dance and drama in her spare time, as I too work in the pub industry and faced the same fears of possibly losing my job during lockdown.
Now let me tell you, the people that are saying the theatre isn't relevant during the COVID 19 outbreak, well let me tell you it is relevant to the theatre workers, the people I have known and made very good friends with over the years. Katie, one of my best friends and I met her whilst we were working at the same theatre in Birmingham, a place I spent working at for eight years, where I got a lot of my teachings and learnt the skills I have today; well Katie is an example of someone who puts her bread and butter on the table, by working full time as a customer experience manager in a theatre, she is an example of someone that has grafted and worked her way up, with her meticulous work ethic and her passion and appreciation for the arts, making sure these theatre fanatics get the theatre experience they deserve. In debate, to people like her, who like many other of my friends and ex colleagues, make their living and work their backsides off, working 12 hour days and double shows, in order to create that memorable experience for theatre goers.
Theatre Is Life And An Education
My main interest for the arts sector and the theatre came from a very early age, at the age of three I was exposed to watching Shakespeare's Animated Tales: Macbeth, I then grew a love for Shakespeare. The first show I also saw and my first experience of the theatre, was when I was five, I remember it like it happened yesterday, my mom took me as a treat to see The Nutcracker by Birmingham Royal Ballet. This helped me develop my appreciation of, not just dance but the visual arts. I remember it was January and the snow scene at the end with it's classical music and elaborate sparkly costumes, perfectly set the scene; I remember when I went outside after the show, my night was complete with a buzz and the excitement of seeing actual snow dropped to the ground, it was magical.
The way I see it the arts are like a school and university of life; from studying a degree in drama, I learnt that it's history, i.e. restoration, Greek Theatre and the ages and traditions different types of theatre went through; this expands and leads to further learning relating to history and philosophy. Not only that, but theatre is also psychology, when playing a character or if you're a director or screen writer and you have to embody that character, some actors perform what is called method acting, the study and research to psychologically portray and captivate the audience with a specific character.
Other educational aspects of working in the arts, is learning technical support, the lighting and sound engineers that create and set the scene, architecture and scenic design, is accummilating skills, such as art and graphic design; as a lot of planning and attention to detail with heavy preparation are there to create that view on the stage or on the television to set the scene.
Politics and government lessons and teachings are involved in certain theatre productions; for example I saw a production of Shakespeare's Measure For Measure, this was set during the soviet union, so of course when you're writing or directing or acting or working on a piece of theatre or television, and it's adapted to a certain time era. For example, one of my favourite little treasures, which I saw at the Birmingham Repertory Theatre, The National Theatre Production of This House, written about the 1970s house of commons by James Graham, educates it's audience on history and the government and politics of that era.
I would also like to add when performing in musicals, be it on film or on stage, it also teaches physical education, for those dancers of an eclectic range, be it street dancers, ballet dancer and simply Broadway musical theatre stars; it teaches from the audition process to the rehearsals, about building physicality and stamina, from being able to both sing and dance and keeping that energy up. Whilst I studied an AS in dance during my teen years, I learnt a lot about physical education, the history of different styles of dance, the cultural aspects of dance, i.e. Irish dance, Tango, Latin American and a whole lot more; so it can cover certain aspects of Geography and different traditions from around the globe. There was also science involved as dancers need knowledge on nutrition and how the human body works, from why you sweat and the importance of training and how it defines muscle definition.
My Previous Life Working In Theatre
Let's rewind back to four years ago, for eight years I worked at a very well known prestigious theatre in Birmingham, I did also work for a chain theatre at the same time, so I learnt and gained knowledge and skills about customer service from both a corporate theatre and a independent theatre. I gained a lot of my management skills and leadership abilities from some really good teachers, that I watched and aspired to be like, and I would like to thank my former managers for helping me and teaching me things to carry across to a new industry, which is now the hospitality industry.
I learnt a lot of transferable skills from these places, I cross trained learning skills on reception, ticket sales, you could also say I had to have some basic mathematic skills, which (and I shudder at this) by cashing up bar and kiosk tills as well as counting stock for beginning and end of day stock balances; fire safety; COSHH (due to using cleaning chemicals on the theatre bar), so many skills, and each day was unpredictable and different, because each show or event was different. Not only that but, I made some amazing friends for life there, who I also learnt things from, the importance of team work and also the family values that they embodied. I wouldn't be the person I was today if it weren't for the theatres I worked at and the emotions and friendships I experienced.
A Lifeline
I remember looking at my Facebook and Instagram feeds from many of my long term friends, faced with the anxiety of not being able to keep their jobs and may face redundancy, my actor friends who had their tours cancelled, the self employed back stage and theatre technicians and the customer service and box office support, and many more. A few people I knew had already had been made redundant, there was protests and petitions to help save the arts. It seemed to certain individuals that the arts was put onto the back burner.
It was then announced on 5th July 2020, that a £1.57 billion package was to be issued as a rescue package, a lifeline had finally been delivered and a lot of prayers answered.
Prime Minister Boris Johnson said:
"From iconic theatre and musicals, mesmerising exhibitions at our world-class galleries to gigs performed in local basement venues, the UK's cultural industry is the beating heart of this country.

This money will help safeguard the sector for future generations, ensuring arts groups and venues across the UK can stay afloat and support their staff whilst their doors remain closed and curtains remain down. "
This package would distributed, not just among theatres, but also art galleries, museums and many more.
As this was announced my empathic nature kicked and a finally felt a sigh of relief for my friends and ex colleagues. The theatre from performing and working, has brought some special people into my life, not to mention gotten me through some dark times during my life, and I have the performers, ex colleagues, friends, writers and aspiring directors to thank for that. The theatre from college teachers, drama teachers, friends and people from amateur dramatics, former work colleagues have seen and believed in my abilities and my strengths and helped me in so many aspects, I couldn't thank them enough.
How The Theatre Has Helped With Mental Health
Working in theatre, I would struggle with my mental health at times, along with most people. However, I would like to use this opportunity to talk about my personal experience, I was suffering in silence, it was winter, I had worked two shows a day both bar and front of house during a long busy run of panto, I was run down, well most of my colleagues were run down too, many of my colleagues would just have that winter depression, which most of us can be exposed to, as we weren't exposed to the sunshine and vitamin D. The nocturnal lifestyle of working evenings, also contributed to the factor that certain colleagues and I were feeling low.
I remember I had a really bad shift, I had about over half a dozen complaints, due to people having to queue for the bar, late comers who kicked off due to not being permitted into the show until a suitable break in the performance, any of you who work in theatre or hospitality environment would know, it was just one of those shifts, which I look back on now and laugh; drunken audience members disrupting the show, you name it, I had it, my past and present colleagues in hospitality and theatre, you guessed right it was one of those bad shifts. I remember I waited until my break and sat staring into space on top of the ice cream freezer in the confectionary store, and just burst into tears, however one of my colleagues came in and turns out felt the same way and had come in also to have a cry, we opened up to each other. Baring in mind I was only 20 years old at the time, these people were so supportive, telling me I was patient, empathic and building me up, that support from these people helped me a lot, we all were in sync with each other.
May I also add that back in September and early October, I had changed jobs, changed locations and had a completely different change of life, they say moving house and changing jobs at both the same time can be difficult. I was cast in a show called Twist with my local amateur dramatic group, which I starred in November. My lifestyle was hectic as I was returning from Warwickshire to Birmingham twice a week for rehearsals, I was thoroughly exhausted and had no time to adjust, I could feel my physical and mental health deteriorating, because I was just thoroughly exhausted. Each time travelling back to rehearsal, I had no time to sit and relax, and not going to lie before going to rehearsals, I wasn't motivated, but then I'd go and perform and see these old friends and like minded people and it made everything better.
I was granted two weeks annual leave for doing a 14 night run of the show in November, I was working and trying to pick up a new job and perform that to the best of my ability and stressed with having to move accommodation again, so up until the dress rehearsal, which was shocking I had hardly a chance to learn my lines properly, it was a shambles, we had everything in those tech and dress runs, from casualties, to things breaking, clown masks, people forgetting their lines, wardrobe mishaps you name it, Twist cast and crew experienced it.
At that point my exhaustion got the better of me, and I found myself just not wanting to speak or see anyone, I just wanted to hide in my room at my parents house and not come back out again. However, even though it was struggle, I had to really push myself to get out of bed, I thought, I cannot do this, I cannot face the world with the counter argument of the show cannot go without me as I have no understudy and everyone worked so hard on it. I went on stage, and cannot remember how, but I managed to just like that know my lines on opening night, the confidence I had in the audition two months prior came back out, and I really felt like I could escape from being Helen and enjoy hiding her as a person and embody seductress South African (or in accent Sewth Efrican) diamond smuggler, Hannah and enjoy being a different person. From this I had a sense of purpose and escapism whilst on that stage. Without the cast and crew of that show, I would've not been able to cope mentally.
Lockdown Beauties
For you theatre fanatics that are missing the stage we so love, I have during lockdown created my own theatre experience from home, this has included, watching some RSC productions shown on BBC 4, such as Hamlet and Macbeth. I have also been watching The National Theatre Live Productions on YOUTUBE. Andrew Lloyd Webber released his musicals on YOUTUBE channel the show must go on, with some little beauties of Jesus Christ Superstar, starring the talented former Spice Girl Mel C.
Let's not mention Hamilton, with a mixture of Jazz, rap, with a mix of hip hop. This is on Disney + and I highly recommend very educational, powerful acting and an amazing and addictive soundtrack.
List of my top 5 Plays and My top 5 Musicals
Measure For Measure by William Shakespeare.
This House by James Graham
Abigail's Party by Mike Leigh
Gaslight by Patrick Hamilton
Educating Rita by Willy Russell
Blood Brothers (ultimate fave)
Oliver!
The Rocky Horror Show
Legally Blonde
Hamilton
If anyone is in the arts sector and currently furloughed or even if you are just a lover of the arts, please share anything in the comments from a theatre experience, to favourite shows. I would like to thank you guys for taking the time to read this blog entry and a massive encore to you all.
Ellie