Chapter 1 Warwickshire
Hello and welcome to the month of September to all my readers, and just want to say a very kind thank you for your support, subscriptions, follows and readership of my blog. I thought I'd write about a different kind of topic this week. If you readers look at my old blogs when I first started out, you can probably tell I have done a lot of travelling and solo travel, but like many percentage of us British folk after being in lock down, I definitely got too anxious about travelling too far afield and going abroad, which is what I usually do and decided I wanted to have my adventures close to home here in the heart of the Midlands in the UK. I have drawn up a list of historic places to visit locally and within 100 miles radious, as I am a history buff and like to call myself a 'Proud English Rose.' I am going to share with you readers my places of interest and by reading this take you on a written tour of my most favourite places that I have visited and are also on my wish list.
Warwick Castle
This is a favourite of mine and is a very loving memory of my childhood, this is one of the grandest castles in the UK in my personal opinion. Warwick Castle is owned by Merlin Group, it is a boasting tourist attraction, nested behind the Tudor town streets and high street of Warwick in Warwickshire, the castle boasts acres of land, gardens on it's outside perfect for romantic walks, family picnics, also the space has been used for the staff actors to host shows, for example re enacting the battle of the War Of The Roses. The castle itself was built by William The Conqueror in 1068, The Castle boasts not only picturesque views outdoors, lying next to the River Avon, but it also takes through many ages, particularly 14th, 15th, 16th and 17th centuries, this is using different areas of the castle to detail the lifestyles of these events. I have been here multiple times and have always been able to journey back in time, when I was little I used to write stories about this place; the stone brick walls of grandeur, the torture chamber, the princess tower, it is like reliving my childhood. The site also has a bar, restaurant, cafe, ice cream stations, gift shop as long as many other facilities, due to COVID the numbers appear to only be taking bookings though, but if you're waiting on a time slot, you can always explore the beautiful quaint provincial town of Warwick itself with only a five minute walk from Warwick train station and a stones throw away from nearby Spa town Royal Leamington Spa. Advice before going, you will need a whole day to have your full experience and explore all the castle grounds and if you're like me and haven't any sprogs in tow or don't like crowds, a visit during the week day during non school holidays would be your best bet to try and visit.
Back To Backs
This is set in the backdrop of Birmingham City Centre and owned by National Trust. It has a delectable little vintage sweet shop next door to the main entrance and the perfect way of killing time before a theatre visit at The Birmingham Hippodrome Theatre or The New Alexandra.
The house is run mainly by volunteers and are keen and enthusiastic to answer any visitor questions. The house portrays reality of living in the Victorian slums of a two up two down in Birmingham, and signifies with it's actors, memorabilia and costumes, but also the houses and courtyard alone how working class life was in Central Birmingham.
It is located by many nice bars and restaurants, and with Birmingham Library and has some lovely little treasures related to your visit to not only the building but also if you're not from there, Birmingham.
Shakespeare's Birthplace Trust Houses & Gardens
The Shakespeare centre is a timber and Tudor style building, located in central Stratford-Upon-Avon, this one of my favourites and somewhere I used to work many years ago. It is located on Henley Street, within close proximity to Stratford train station, a walk consisting of just under 5 minutes. Whilst on Henley Street, it boasts a variety of little boutiques, including vintage sweet shops, a specific Christmas shop that is open all year round, cute little tea rooms, where you can grab yourself a Warwickshire cream tea. There is also a couple of Vegan cafes located nearby, parking is very tight, however, parking can be found nearby the train station and also the top end of the town nearby a retail park.
Once you enter The Shakespeare main house, it plays a montage of his works being performed from film to theatre, due to COVID I believe you now have to book online. Each room travels to exploring different elements of Shakespeare, due to being inside his family home, with exploring how they lived, from his father John Shakespeare's story exploring his works as a glover/ leather worker, telling his story from how he became town mayor. The story is told by volunteers and character actors. This also visits their kitchen where you find out about how the Shakespeare family lived and their diet to their eating arrangements in a Tudor style dining room, with a collection of gothic style candelabras and detailed tapestries each telling a story, where you see a link to Polonious's stabbing behind the tapestry in Hamlet, one of his many works, you see as you go through the house and manicured back garden a lot of links to Shakespeare's works. The decor and attention to detail, makes you feel very at home and reliving this Tudor based lifestyle of a working to middle class in Stratford-Upon-Avon. The only thing I would say if you are visiting in the autumn and winter especially, it's so close to real life of the olden days, that the windows and property itself and how it is built, you definitely feel a draft coming through as the property is boasted to remain as close to the Shakespearian period as it should.
After exploring inside the grounds, you step into the gardens, this is a middle man between the house and gift shop. The garden is very well maintained, mainly by volunteers, and possesses beautiful roses, this also connects another link, that The Shakespeare Aloud Theatre Actors perform onsite, where they re-enact Romeo and Juliet, when you step into the garden and see the tidy majestic garden with pink and red roses, you hear the actors saying, "What's in a name, a rose by any other would smell as sweet" this is also emblematic and shows a connection to one of Shakespeare's works. The gift shop is very quirky, you can find vintage Tudor/ Elizabethan style gifts such as quill pens, tapestries and also memes and classical postcards. Not only that but it also sells Shakespeare gin, in a variety of flavours, i.e. Quince, Mulberry and dry gin, the perfect taste of Warwickshire and in honour of Shakespeare himself and Stratford's heritage.
Anne Hathaway's Cottage
Located in the pretty village of Shottery within a short walking distance to the main town of Stratford, Anne Hathaway, Shakespeare's wife nests her beautiful Elizabethan country cottage, it has beamed ceilings and countryside interior with a lot of peaceful ambience surrounding this building, the cottage boasts a beautiful garden and perfect for a summer's day visit, with a country pub located nearby.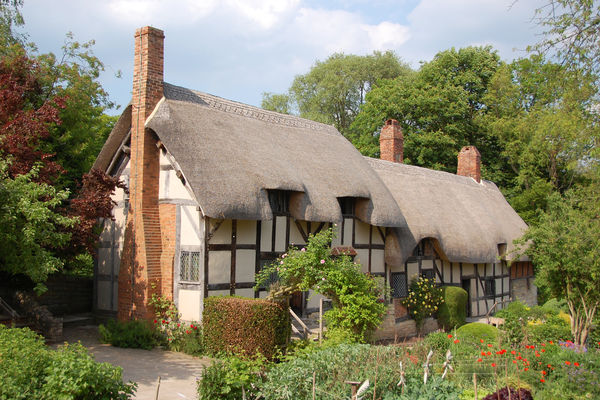 Charlecote Park
This massive grand stately home was once home to The Lucy family, Sir Thomas Lucy and also has some interrelation with Shakespeare who was once known for poaching rabbit and deer. The beautiful stately home that lies in the country village of Charlecote, boasts majestic rooms, each telling a story, the home itself mirrors Lyme Park in Cheshire in appearance and has loads of wildlife, a perfect day out in the country for both adults and children. The garden itself surrounds itself in huge grounds, perfect for a summers day walk and explore, the setting and onset appearance is easily romantic and easy to get lost in the imagination.
Thankyou everyone for reading, if you are ever in central Midlands or Warwickshire/ Greater Birmingham these little beauties are well worth a visit and each has a variety of stories to tell.
I'll be releasing an entry of my home county of Staffordshire and stately homes next week, and each week I'll take you on a narrative to journey to a variety of famous, quirky and beloved historical days out across Central England.
If anyone has any days out they wish to explore, or any ideas for wherever in the world they would like to visit please let us know in the comments, the more the merrier.